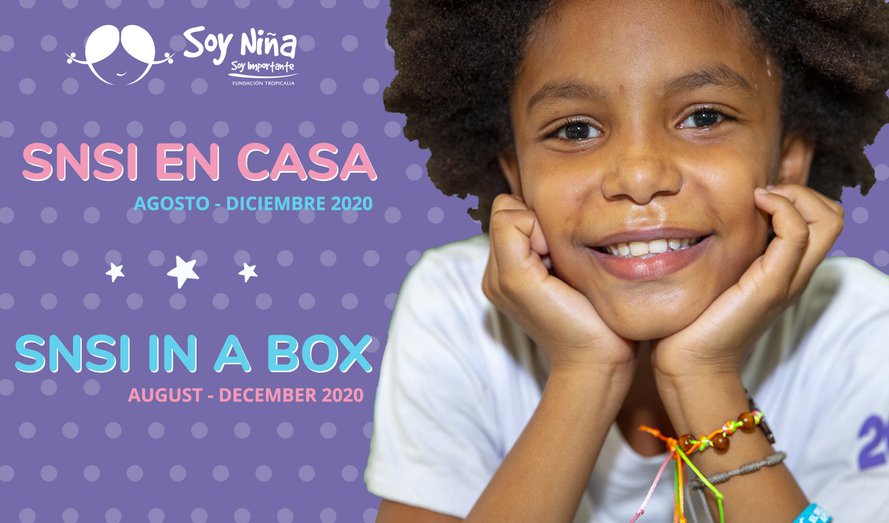 We are extremely proud to present Soy niña, soy importante in a Box  (I'm a Girl, I'm Important in a Box or SNSI in a Box), an initiative that brings the magic of the Soy niña, soy importante summer camp to the homes of each of our girls in Miches, El Seibo province of the Dominican Republic. Over the course of five months, the girls will receive a monthly box full of surprises, activities and transformative messages that awakens their inner supergirl and unleashes their full potential. 
The pandemic brought about novel opportunities to innovate and reinvent our programs at Fundación Tropicalia, where we remain committed to the well-being of our girls and their families. Considering the realities of social distancing, SNSI in a Box will continue to serve the 300 girls from 9 to 12 years old who normally participate in our summer camp, and we need your help.
SNSI in a Box addresses important issues exacerbated by the pandemic, such as increased gender-based violence due to confinement, social isolation, and new social norms imposed by biosecurity. Each box of surprises and activities aims to motivate our girls to continue with their studies, postpone untimely marriages, plan their reproductive life, increase their self-esteem, personal care and their biosafety. All this is achieved through constructive play along with virtual and permanent mentoring by our network of volunteer counselors.
Fun Facts about SNSI in a Box:

Duration: 5 months, from August to December 2020.

What's it about? Every month we deliver a theme-specific box filled with educational and recreational activities, experiments, transformative messages and snacks directly to our girls. 

How will it work? Upon receiving their boxes, the girls virtually connect with our network of volunteer counselors who already know them from years past. Our volunteers will mentor and motivate the girls to complete their activities via WhatsApp, video and phone calls. 

How many girls & boxes? 300 girls will receive 5 boxes each, for a total of 1,500 boxes.

How can you help? Gift a box to a girl for just US $20 or RD $1,200.
Make your donation today and change her life forever.
Box Themes:
Box 1: I Care for Myself and Others - This box focuses on COVID-19 prevention and includes gloves, soap and activities to make homemade masks and antibacterial gel.  
Box 2: I'm Not Embarrassed - This box seeks to break away from the taboos associated with menstruation and teaches girls how to make homemade and reusable pads, which are difficult to come by. The box provides all the necessary materials as well as underwear.  
Box 3: I Like Who I Am - This box teaches girls how to make homemade hair care products and celebrates beauty in all its forms. It breaks down the traditional concepts of beauty and generates a space of self-love and self-acceptance, reminding girls of their uniqueness.
Box 4: My Rights, My Protection - The contents of this box were developed by the United Nations Population Fund (UNFPA), and teaches girls to identify the difference between healthy and unhealthy interpersonal relationships; raise awareness regarding abuse and violence; and informs them of their rights and options for reporting abuse in their locality.
Box 5: I'm A Leader - This box features female participation in politics and brings attention to outstanding female leadership during the pandemic. Girls will learn the personal and political backstory of the leaders of Canada, New Zealand and Germany, "travel" to their countries and learn about women's representation in politics worldwide.
Topic:
SOCIO-CULTURAL ADVOCACY
I'M A GIRL, I'M IMPORTANT
---