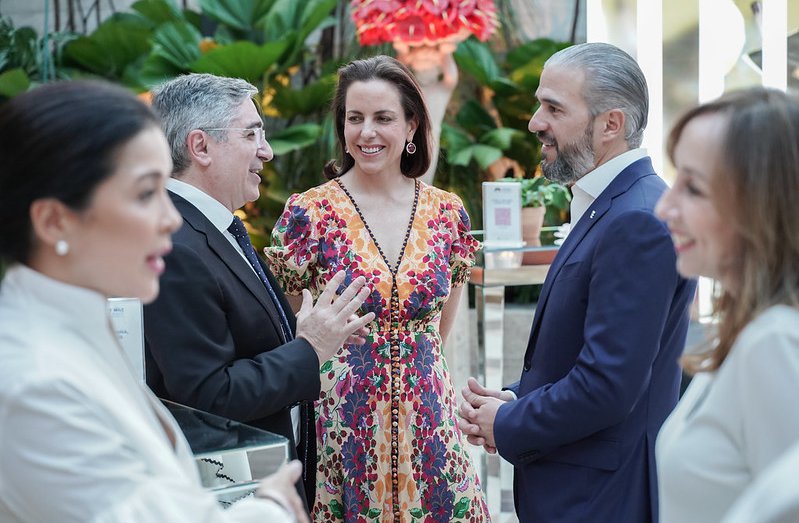 Santo Domingo, March 31, 2022. By empowering a girl, you empower an entire country. It is with this conviction that Fundación Tropicalia reaffirms its commitment with over 10 years of promoting the healthy development of the girls of Miches through its initiative Soy niña, soy importante, which to date has transformed the lives of more than 1,200 girls. With a shared vision, Grupo Bentrani joins Fundación Tropicalia in raising awareness about the reality of inequality that thousands of Dominican girls live in. 
In an emotional and intimate atmosphere, Grupo Bentrani hosted a charitable event generating visibility and supporting the mission of Soy niña, soy importante, who seeks to accompany girls living in vulnerable conditions, protecting their childhood, guiding them to promote assertive decisions, and educating them about their rights, an exercise that not only benefits them, but also their community. The initiative includes a summer camp, a home-based program, actions aimed at adolescent girls and activism, composed of communication campaigns and citizen participation within the municipality of Miches in the province of El Seibo.
In the words of Katherine Durán, Director of Soy niña, soy importante, ''We give thanks to Grupo Bentrani for joining us in raising awareness of the condition in which Dominican girls find themselves. As a Foundation, we have a comprehensive approach in creating a transformative effect on our girls and their community. We prioritize their education as a fundamental axis to catapult their full potential and allow them to discover a different life model." 
The guests - clients, partners and collaborators of both organizations - enjoyed an emotional presentation by singer Keren Montero, winner of Dominicana's Got Talent 2021, a symbol of self-improvement and an inspiration for many girls in the country. In addition, guests had the opportunity to contribute to Soy niña, soy importante, and participate in a raffle sponsored by Grupo Bentrani.
Myriam Bensadon of Grupo Bentrani concluded, ''I would like to express my most sincere thanks to our customers who are always supporting us. I am immensely grateful for their generosity, sensitivity and for taking the time to attend our request to help those girls who need us so much. For Bentrani it is a very important cause''. 
About Fundación Tropicalia and Soy niña, soy importante
Fundación Tropicalia promotes sustainable development in Miches, a coastal community located in the northeast Dominican Republic, through the design and implementation of innovative high-impact programs in four main areas: Environment, Education, Productivity, and Socio-cultural Advocacy; the latter of which is aimed at promoting the integral development of its inhabitants, cultural values and gender equality.
Soy niña, soy importante is an initiative developed by Fundación Tropicalia in 2013, which accompanies girls living in vulnerable conditions with the purpose of protecting their childhood, guiding them to foster assertive decision-making, and educating them and their community about their rights.
The initiative's efforts include a summer camp, a home-based program, actions aimed at adolescent girls, and activism, consisting of communication campaigns and community participation. It is implemented in the Dominican Republic, with a geographic focus on the municipality of Miches in the province of El Seibo.
To view photos of the event, click here. 
About Grupo Bentrani
Grupo Bentrani opened its doors in 2006. With more than 25 professionals in the luxury sector, it has three single-brand boutiques, Rolex Boutique, Cartier Boutique and Montblanc boutique as well as 2 authorized technical services, Rolex Service center and Cartier Service center. 
Topic:
SOCIO-CULTURAL ADVOCACY
I'M A GIRL, I'M IMPORTANT
FUNDACIÓN TROPICALIA
---