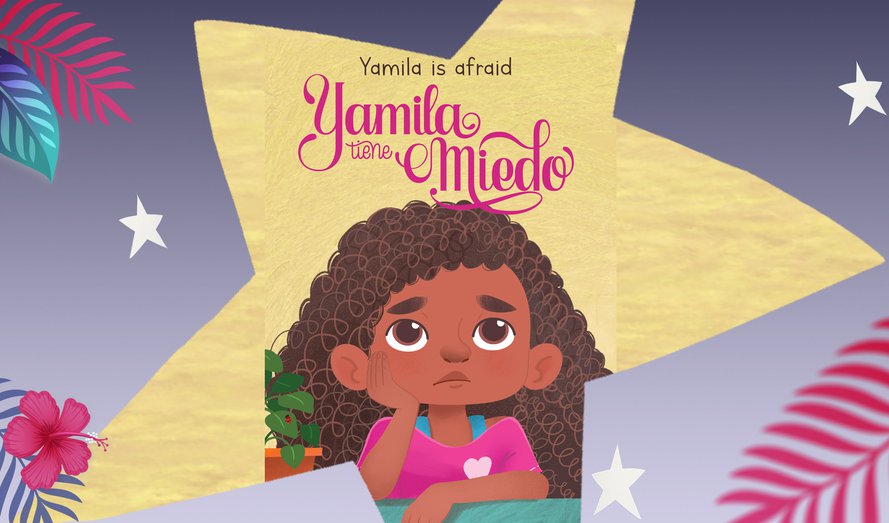 Santo Domingo, June 27, 2022. Fundación Tropicalia and children's story writer, Yina Guerrero, join forces to present the book "Yamila tiene miedo" (Yamila is Afraid). A children's story created from surveys that were shared with the girls from the municipality of Miches, and whose answers were the main inspiration for the story of Yamila. The story stars a young participant of the summer camp Soy niña, soy importante (SNSI) who, like many girls from the community, is forced to assume responsibilities that are not appropriate for her age. As we know, depriving a child of experiencing her childhood has an impact on her formative process, which translates into fears, resentments, bad decisions and insecurities that are reflected in adult life. Given this reality, it is necessary to give visibility to the issue at home; the story format is presented as an alternative, inclusive and pedagogical channel that seeks to promote -among all family members- a healthy and necessary reflection on this problem.
"I have no one to leave your brother with during camp week. As always, you will have to stay home and take care of him'', says Yamila's mother at the beginning of the story, a scene inspired by a reality that Fundación Tropicalia, organizer of the SNSI camp, still identifies in some homes, where girls are deprived of enjoying their age due to the responsibilities they are burdened with at home. The evidence provided by Fundación Tropicalia and Yina Guerrero is also supported by statistics. According to studies by the United Nations Children's Fund (UNICEF, 2016), around the world girls between 5 and 14 years of age invest 40% more of their time doing household chores compared to boys of similar ages. This translates into 160 million hours per day involved in activities such as cooking, washing, collecting water for household cleaning, caring for younger siblings, and more, a situation that pushes them to put aside their duties, thus limiting the possibilities for these girls to occupy their free time in other recreational and/or personal growth activities.
In the words of Katherine Durán, director of Fundación Tropicalia's Soy niña, soy importante initiative, said: ''Yamila is the face of thousands of Dominican girls who can see themselves reflected in this story, a girl full of dreams who is afraid of not seeing them come true and who, due to circumstances beyond her control, feels that they are unattainable. This story was written in a participatory way, as the girls answered questions created by the author, which confirms the great potential in our girls, the importance of listening to them and supporting their ideas. For this reason, at Fundación Tropicalia we are committed to supporting our girls in the construction of their life project".
"Being an ambassador for Soy niña, soy importante has been an experience of immense personal growth. An experience where I have been able to see how from a tiny idea, a seed of hope can be planted through the story "Yamila is afraid", after having had the wonderful opportunity to spend time with the girls and listen to or read their thoughts. Those experiences taught me that although we may have differences in our life circumstances, we also have many similarities in our dreams and fears," concluded Yina Guerrero, author of the book. 
The book launching took place this past weekend in Santo Domingo at the Laura Beltran Theater of the Babeque High School. The presentation starred the actress Estefany Vásquez, who, using the monologue format, internalized Yamila's story. The staging was aimed at parents and children, and we look forward to bringing this this theatrical presentation to other cities of the country.
The creation of this material involved the integration of very talented individuals; in illustration Yatxel Sanchez, a Dominican artist who gives life in color to the characters through the art of drawing. In addition to this, the artistic skill of Ronin Morel in lettering, Ruth Herrera in proofreading and Keiselim Montás in translating from Spanish to English. We would also like to thank the sponsors who made possible this staging and launching of the story: POS Soluciones, Mejía Arcalá, Grupo Ramos and EcoMensajería.
Topic:
SOCIO-CULTURAL ADVOCACY
I'M A GIRL, I'M IMPORTANT
---