Leading Environmental Protection and Stewardship
Our environmental programs support Miches as a sustainable tourism destination, and involve collaboration with local authorities and community organizations in support of the protection and care of coastal and watershed ecosystems.
---
WALKING THE TALK
Fundación Tropicalia promotes environmentally friendly practices within its own operations as well. Whenever possible we avoid using plastic, styrofoam or disposable materials in our community activities.
Reduce and reuse: For example, in our summer camp "I'm a girl, I'm important," utensils girls use for eating and drinking are reusable instead of disposable; so, we fulfill a dual function: to reduce our impact reusing materials and raise awareness among young girls of the community to avoid using plastic and foam. In terms of communications, we try to maximize the opportunities offered by technology to reduce the use of materials such as paper (avoiding printing letters, press releases, photos, etc.)
Recycle: Our annual sustainability reports are printed on 100% recycled paper and substituted in electronic form wherever possible. All hard copies delivered in Santo Domingo use electric motorbike messengers. In 2014, this approach saved 195.25 kg of CO2, 1,364 gallons of water and avoided cutting down 16.3 trees.
COSTA ESMERALDA BEACH RESCUE
The Costa Esmeralda Beach Rescue is an initiative led by Fundación Tropicalia in collaboration with local authorities and Tropicalia to enforce environmental regulations and beach conservation efforts. This partnership conserves 200 linear meters of coastline in Costa Esmeralda by staving off motor vehicle traffic, reducing inadequate solid-waste management and littering, and raising awareness. Costa Esmeralda Beach Rescue designated a parking area for vehicles and strategically placed trash bins and informational signs to encourage ecofriendly behavior from visitors.
AUTOMATIC WEATHER STATION
In September 2015, Fundación Tropicalia installed the first Automatic Weather Station in Miches. The station records wind direction and speed, humidity, dew point, air pressure, temperature, solar radiation, ultraviolet radiation, and rainfall. Data is uploaded to an online weather platform every minute on www.wunderground.com. The climatological data will be a great contribution to tourism, agriculture and the Miches community in general by providing accurate, up-to-date local weather information and tracking capabilities over time.
---
WE RECOMMEND
Fundación Tropicalia has continued its support, awareness and conservation efforts of the coasts and beaches of Miches with multiple actions, as part of their work of its Environment area.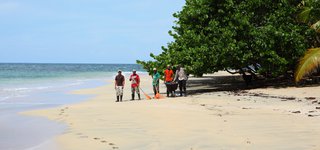 "To face the future, in regards to the ocean and as well as around the world, we must aim for sustainable development. Responsible tourism helps empower local communities by creating shared value".