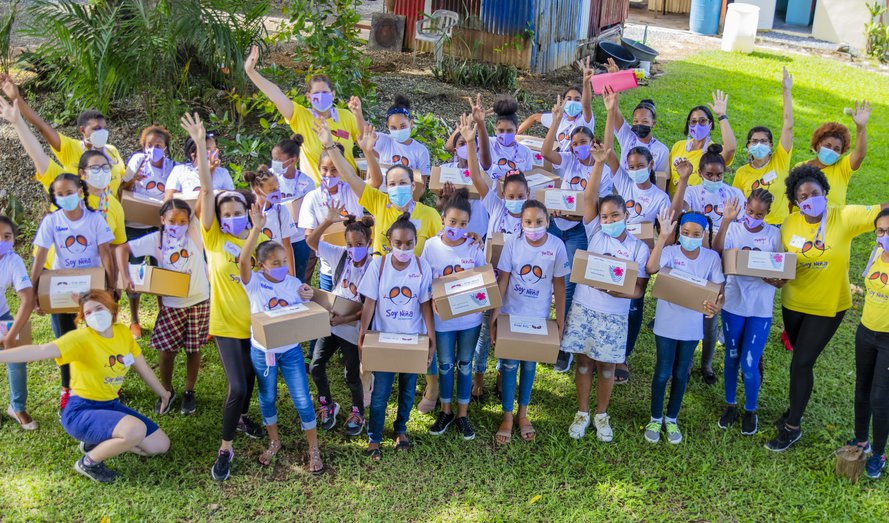 The second edition of SNSI in a Box, promoted by Fundación Tropicalia through the Soy niña, soy importante (SNSI) initiative, has launched for more than 300 girls between 9 and 12 years of age from Miches. As many are aware, these months during the pandemic have been a challenge for our children, especially for those hailing from the most vulnerable communities in the country. It is for this reason why the work of SNSI in a Box is so relevant, focusing on learning and fun through the delivery of thematic boxes that help girls strengthen their sense of self-esteem, resilience and life project from their homes.
Committed to the healthy development of children, Fundación Tropicalia has been working with the girls and adolescents of Miches for more than eight years, reminding girls of their value in society, and supporting their social and emotional development in order to make timely life choices like staying in school.
The second edition of SNSI in a Box launched on August 9, where girls from three different communities of Miches will receive three boxes between the months of August and September with educational activities and transformational messages to encourage healthy development and inspire change. The theme this year revolves around STEAM education, an approach that highlights the areas of science, technology, engineering, art and mathematics, so that through experiential activities the girls can discover the scientist within.
In conjunction with the STEAM activities, each box will have a theme that empowers girls. First is the "I'm Brave'' box which emphasizes resilience, followed by "I'm Unique" with a focus on self-esteem through artistic activities and finally the "I'm Capable" box with activities that highlights the importance of creating a life project. Each box gets increasingly more complex, but our girls will never be alone, receiving both face-to-face and virtual support from our network of volunteers.
In her words, Katherine Durán, Director of the Soy niña, soy importante initiative, stated: "The environment in which these girls develop has caused many of them to be deprived of their childhood, which in the long term affects their confidence and identity, even more so in a context of social distancing. Our girls dream of a future full of opportunities in which they can develop in a healthy and safe way; our role is to guide and accompany them in the construction of that goal, motivating them to prioritize education as the most powerful weapon at their disposal to break any barrier they face.  Hence, the importance of having an initiative like Soy niña, soy importante that not only provides the girls with a safe space to grow and embrace their childhood, but also has a palpable and lasting effect on their lives and their community.
Clearly, the arrival of this project in Miches has had an impact on the girls, as well as on their families who were able to see and accompany them in their transformation, while at the same time providing them with an ideal space to promote unity and growth together.
About Soy niña, soy importante
Soy niña, soy importante is an initiative of Fundación Tropicalia that supports at-risk girls with a simple mission: protect their childhood, guide them in making timely life choices, and educate them and their community regarding their rights. 
What began as a summer camp in 2013, today Soy niña, soy importante also includes an at-home program and spearheads activism and awareness campaigns in Dominican Republic, with a geographic focus in the municipality of Miches in the El Seibo Province.
About Fundación Tropicalia
Fundación Tropicalia promotes sustainable development in Miches, a coastal community located in the northwest of the country, through the design and implementation of innovative, high-impact projects in four main areas: Environment, Education, Productivity, and Socio-cultural Support; the latter with the objective of promoting the integral development of the inhabitants, cultural values and gender equality.
Topic:
SOCIO-CULTURAL ADVOCACY
I'M A GIRL, I'M IMPORTANT
---