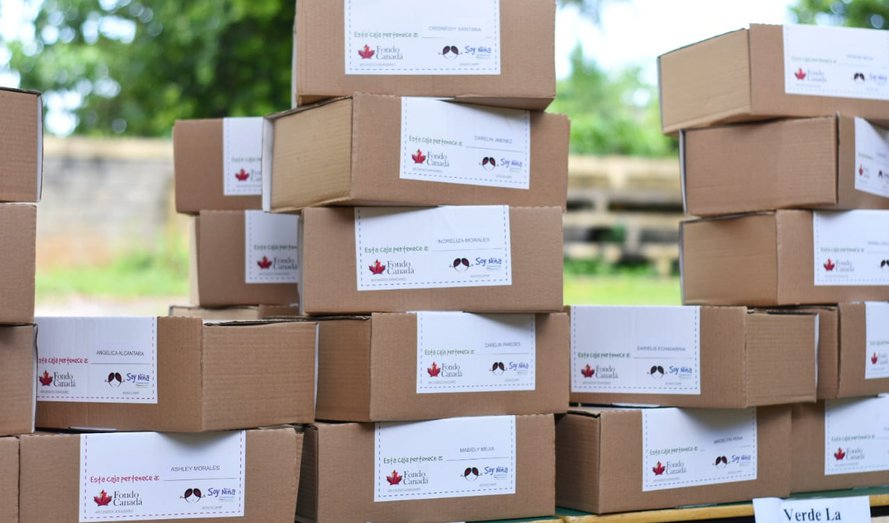 Fundación Tropicalia, through its program 'Soy niña, soy importante' ('I'm a Girl, I'm Important or SNSI); and the Embassy of Canada in the Dominican Republic, signed an agreement for the development of the project 'SNSI in a Box', aimed at strengthening female inclusion and empowerment, as well as reducing risks of gender-based violence during the COVID-19 pandemic.
The initiative, which will take place in Miches, El Seibo province, will be partially financed by the Canadian Fund for Local Initiatives; a Canadian government program that seeks to strengthen bilateral relations between Canada and the Dominican Republic, together with civil society, by building and strengthening key alliances and supporting local efforts in areas such as gender equality and inclusive development.
The partnership seeks to promote the well-being and healthy development of 300 girls between 9-12 years old, who find themselves in situations of risk and vulnerability that typically participate in the Fundación Tropicalia 'Soy niña, soy importante' summer camp, and who, due to COVID-19 are sheltered in their homes for a prolonged periods of time.
"In this scenario, girls are asking a lot of questions about themselves and their role in society, which has been drastically marginalized. It's in these moments when we feel the need to share our message and impact their lives in a transcendental way," commented Maricelle León, Executive Director of Fundación Tropicalia. "After eight years of providing a fun and safe space for the girls of Miches, and knowing that we could not impart our traditional camp dynamic due to social distancing norms required to combat the pandemic, we could not sit idly by. We decided to develop an alternative to camp to continue our mission and we appreciate the support of the Canadian Fund to achieve this goal."
Through the monthly delivery of themed boxes, 'SNSI in a Box' will provide the support that girls need to cope with these long periods of confinement and isolation. From the months of August through December, the program will deliver one box per month (for a total of 5 boxes per girl), directly to the girls' parents through an elaborate and safe distribution network and protocol.  Each box explores a particular theme that sets to strengthen the girls' knowledge regarding their biosecurity, the construction of a life project, and their rights and options to report cases of abuse or violence.
These contents, traditionally taught in person at the 'Soy niña, soy importante' camp, are delivered to the girls through the new 'SNSI in a Box' methodology, accompanying them in this context of confinement where stress levels skyrocket in homes, potentially unleashing greater situations of gender-based violence. The boxes contain activities to monitor and evaluate how the participants are internalizing these messages.
The second objective of the agreement is to create awareness in relation to gender-based violence during confinement, and locally strengthen the critical path of attention services meant to handle cases of abuse.  This initiative will be accompanied by audiovisual materials that seek to create awareness on the subject and ensure that community members (men, women, and children) can clearly identify the behaviors and actions associated with violence, as well as the steps to file a complaint, and obtain the necessary help in dangerous situations.
"From the Embassy of Canada in the Dominican Republic, we are convinced that promoting gender equality and the empowerment of women and girls is one of the most effective ways to reduce poverty and build a more inclusive, peaceful and prosperous world for each and everyone, "said Canadian Ambassador Shauna Hemingway. "Promoting gender equality as the central axis of our society is fundamental, something that we defend with the Embassy's Gender Commitment and we reaffirm with the support of 'Soy niña, soy importante' through the Canada Fund."
The signing of the agreement was formalized by Shauna Hemingway, Canadian Ambassador to the Dominican Republic; William Phelan, president of Fundación Tropicalia; Maricelle León, executive director of Fundación Tropicalia; and Katherine Durán, director of the 'Soy niña, soy importante' program.
About The Canadian Fund: The Canadian Fund for Local Initiatives (FCIL) was created by the Canadian Government to support the implementation of projects designed by local civil society and grassroots organizations. This is a unique initiative as most decisions are made at the embassy and projects are designed locally. This allows Canada to respond to the priorities of local communities, including humanitarian aid, joining the efforts of the Dominican Republic, working at the community level, while focusing on crosscutting issues of environmental sustainability and gender equality.
About Fundación Tropicalia: Since 2008, Fundación Tropicalia promotes sustainable development in Miches, a coastal community located in northeast Dominican Republic, through the design and implementation of high-impact innovative projects in four main areas: Environment, Education, Productivity, and Sociocultural Advocacy; the latter with the aim of promoting the integral development of the community by strengthening  cultural values and gender equality. To learn about Fundacion Tropicalia's  history and programs, visit: www.fundaciontropicalia.com 
About Soy niña, soy importante: Soy niña, soy importante ('I'm a Girl, I'm important' or SNSI), a program of Fundación Tropicalia, is a summer camp aimed at girls from 9 to 12 years old who live in vulnerable environments with the mission of giving them a safe space where their rights are respected and they can simply be girls . Through didactic, playful, and recreational activities, we provide them with the necessary tools to guide them in a critical and reflective decision-making process. 2020 would have marked the eighth edition of the camp in Miches; However, due to the COVID-19 pandemic, the camp was adapted to 'SNSI in a Box', which consists of delivering boxes of activities and transformative messages over a period of five months to the houses of the girls participating in SNSI.
Topic:
SOCIO-CULTURAL ADVOCACY
I'M A GIRL, I'M IMPORTANT
FUNDACIÓN TROPICALIA
---