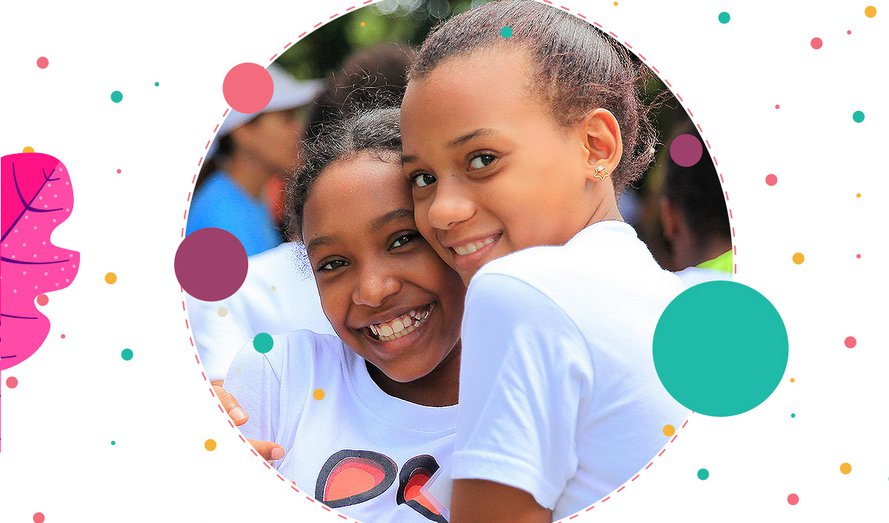 This year Soy niña, soy importante turns ten and we are CELEBRATING everyone who makes this beautiful project possible; your ongoing dedication and passion has impacted more than 1,200 at-risk girls from Miches, a coastal town in the province of El Seibo, Dominican Republic. 
Without a doubt the work and community development programs of Fundación Tropicalia have given us the platform to reach girls from 17 different communities, and teach them about their rights and how to make timely life choices. Protecting them is our purpose, because when you lift up a girl you lift up an entire country!
What Are We Doing for the Girls of Miches?
OUR SUMMER CAMP hosts girls between 9 and 12 years old every summer,  providing them with a space for fun and learning with the objective of building up their self-esteem, creating life projects, and improving their knowledge surrounding self-care, their sexual and reproductive health, and how to identify gender based violence.
OUR HOME PROGRAM (SNSI in a Box) delivers a box directly to our girls' doorsteps, filled with didactic and educational materials, and includes guided exercises, snacks and surprises, allowing them to learn through play, while simultaneously involving their family members in the development of their activities.
OUR TEEN EMPOWERMENT program gathers adolescent girls between 13 and 15 years old in peer groups guided by a community mentor, and provides workshops and exercises that support the development of their life projects, and reinforce their knowledge of sexual and reproductive health.  
THROUGH ACTIVISM Fundación Tropicalia develops and implements awareness campaigns for the local community, while actively engages in civic participation in order to strengthen the presence and role of local and national authorities that are responsible for the protection of children. 
How Can You Help?
Making a donation, collaborating with your knowhow, and spreading the word are ways that you can support us. If you have something else in mind, let us know!  Soy niña, soy importante is an initiative that continues to evolve thanks to the contributions of the strategic partners and donors who believe in the program and its results. 100% of the funds raised are used to develop and vet content, purchase materials, support logistics and engage specialized professionals.
A Dream Shared with Grupo Bentrani 
The 2022 fundraising season for Soy niña, soy importante began on March 31, with the celebration of an emotional cocktail event sponsored by Grupo Bentrani, owner of single-brand luxury boutiques (Rolex, Montblanc and Cartier) that have been operating in the Dominican Republic for 16 years. This strategic partnership is the result of a joint vision shared by both organizations that seeks to raise awareness about girls and women's issues in the Dominican Republic, and invites new supporters to join the cause. Ralphy Bensadon from the Bentrani Group and Adriana Cisneros were at the event, as well as the ambassadors to the program, and more than 200 guests. Special thanks to all those who supported us and made this event so memorable!
Topic:
SOCIO-CULTURAL ADVOCACY
I'M A GIRL, I'M IMPORTANT
---